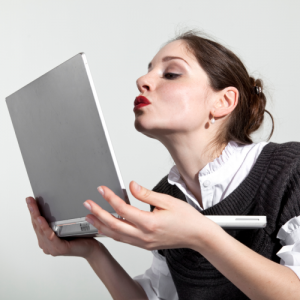 How to meet people online is a question we get asked all the time! While the sheer number of sites online to meet people is increasing rapidly, so is the competition. It's easy to join a dating site but that's not enough anymore. You need to understand how to build a profile that will rise above the competition and get you the notice you deserve. Damaged Goods will offer you a dating experience where you can meet people online in a unique setting.
Today, nearly one in four Americans have gone on a date with someone who they first met on the internet. It is no longer taboo to find the love of your life online. It wasn't very long ago that looking for love online was seen as scraping the bottom of the barrel. People were in dismay that you would be willing to start a relationship with a total stranger over the internet. If you couldn't find love in "real life," then there was something wrong with you.
No matter which online dating site you use, you will not be successful at meeting new people online without a well-crafted online dating profile. It's simple, any site you choose will be more effective if you craft a great online dating profile that showcases your strengths and generates interest. I'm sorry to tell you that online dating is a competition, and the best crafted online profile helps you be more successful.
If you look at the couples who stay together, about half of the couples who meet through online dating have transitioned to marriage by year four of the relationship. If you look at people who didn't meet through online dating, the time frame is much longer — half of those couples transition to marriage by year 10 of the relationship. So there's a substantial difference.
This is because there are couples who meet online who get married right away. I mean, that happens with people who meet offline, too. But when you look at the data, it's just more common online. And I think that's because online you do this big, calculated search for your soul mate, and find someone else who agrees and then transition to marriage much more quickly. Meet people online with Damaged Goods Dating.